All the below is important to understand before making a smoothie. 
Please go through and understand the information to get the best out of your green smoothies.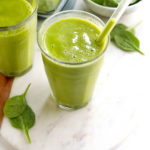 Print Recipe
Green Smoothie (General)
Makes approx. 8 cups of 100% raw smoothie.
Equipment
VitaMix or Blentec blender
Ingredients
Required ingredients
4

Tbsp

flax oil

2-4 Tbsp. organic unfiltered refrigerated flax oil (omega-3 rich oil)

2

cups

filtered water

1

lemon

Unless using bananas. Frozen lemon including peel (anti-skin cancer, high in flavanoids)

8

Tbsp

Food Grade Diatomacious Earth

Heaping tablespoons.
Greens, Required (gather about .5 to 1 lbs of different raw washed greens)
Spinach

Collards

Kale

Dandelion Greens

Chard

Cabbage

Green and Red Cabbage

Wheat Grass

Grow your own. See site for details.
Sweetener
4

Tbsp

Raw Honey

or ½ to 1 tsp. stevia (herbal sweetener) or 1/3 cup agave syrup (low glycemic index)
Recommended Vegetables to add
Frozen Fruits to add
Strawberries

Frozen

Blueberries

Frozen

Grapes

Frozen

Any other frozen fruits or mixed berries
Base to use (use only one)
1

Bananas

Large Frozen Bananas. Do not use Bananas with lemon

.25

Papaya

Use with lemon.
Instructions
Add the water to blender.

Add Diotomacious Earth and blend in.

Add Flax oil and blend in.

Add raw honey, or sweetener and blend in.

Add lemon if not using bananas as base.

Add your Base now. Use only one type, do not mix.

Add other vegetables and blend in until smooth.

Gradually add greens until, briefly pureed, the mixture comes up the 5-cup line.

Puree greens mixture for 90 seconds until very smooth.

Gradually add frozen fruit until the container is completely full and blend 90 seconds or until well blended.

Smoothie can be stored in refrigerator for about 5 days.
Notes
Do not leave out the Lemon or the Flax Oil.
If you are insulin dependent or have any form of cancer, I recommend asking about and get on the Gerson Therapy.
All fruits and vegetables should be sprayed with 3% H2O2 (Hydrogen Peroxide), and let sit for a minute or two, then sprayed with apple cider vinegar (or white, but apple is better), and let sit for a minute or two. Wash with filtered water, now ready to use.
For beginners and those trying to convert children, consider using LESS greens and MORE fruit (especially berries and bananas) in the beginning, gradually working up to a 50/50 ratio as described here. Use just the mild flavors in this transition phase, like spinach, kale, collards, and chard. Add more water if you feel the smoothie is too thick.
Vegetables and Fruits should be certified organic, but if you cannot afford, Meyers or Walmart vegetables are better than not using raw fruits and vegetables. Just do not forget to wash them as described above. I have found Flax Oil only at the Whole Foods Store. Many states have Whole Food branded stores. Michigan has a few in my area, so you should be able to find one. Whole Foods has many organic products but are considerable more expensive, better for you though. Check Meyers for Sea Salts, etc. before buying at Whole Foods store. If Meyers has the same product, then Meyers is usually less expensive on same brand products. So check around before buying.
Nutrition
Calories:
118
kcal
|
Carbohydrates:
14
g
|
Protein:
1
g
|
Fat:
8
g
|
Saturated Fat:
1
g
|
Sodium:
5
mg
|
Potassium:
94
mg
|
Fiber:
1
g
|
Sugar:
12
g
|
Vitamin A:
100
IU
|
Vitamin B1:
1
mg
|
Vitamin B2:
1
mg
|
Vitamin B3:
1
mg
|
Vitamin B5:
1
mg
|
Vitamin B6:
1
mg
|
Vitamin C:
14
mg
|
Vitamin E:
1
mg
|
Vitamin K:
1
µg
|
Calcium:
7
mg
|
Copper:
1
mg
|
Folate:
8
µg
|
Iron:
1
mg
|
Manganese:
1
mg
|
Magnesium:
8
mg
|
Phosphorus:
5
mg
|
Selenium:
1
µg
|
Zinc:
1
mg